When we were at school, it was exciting to fill in and send off the voting slips for the annual NME Readers Poll. Weeks later, you could read the rankings in each of the many different categories. The paper poll back in the post-punk era makes us wonder whether it was a strictly counted thing or whether the journalists opened a few envelopes and then maybe guessed the rest.
Filling in the poll form with a mate was a brilliant exercise; you could argue the odds, try to out-cool each other and come up with some smart-arse suggestions for a laugh. The reason for this blog post is that we can remember specific things about the status of girls in bands and that all-important 'Female Singer' category.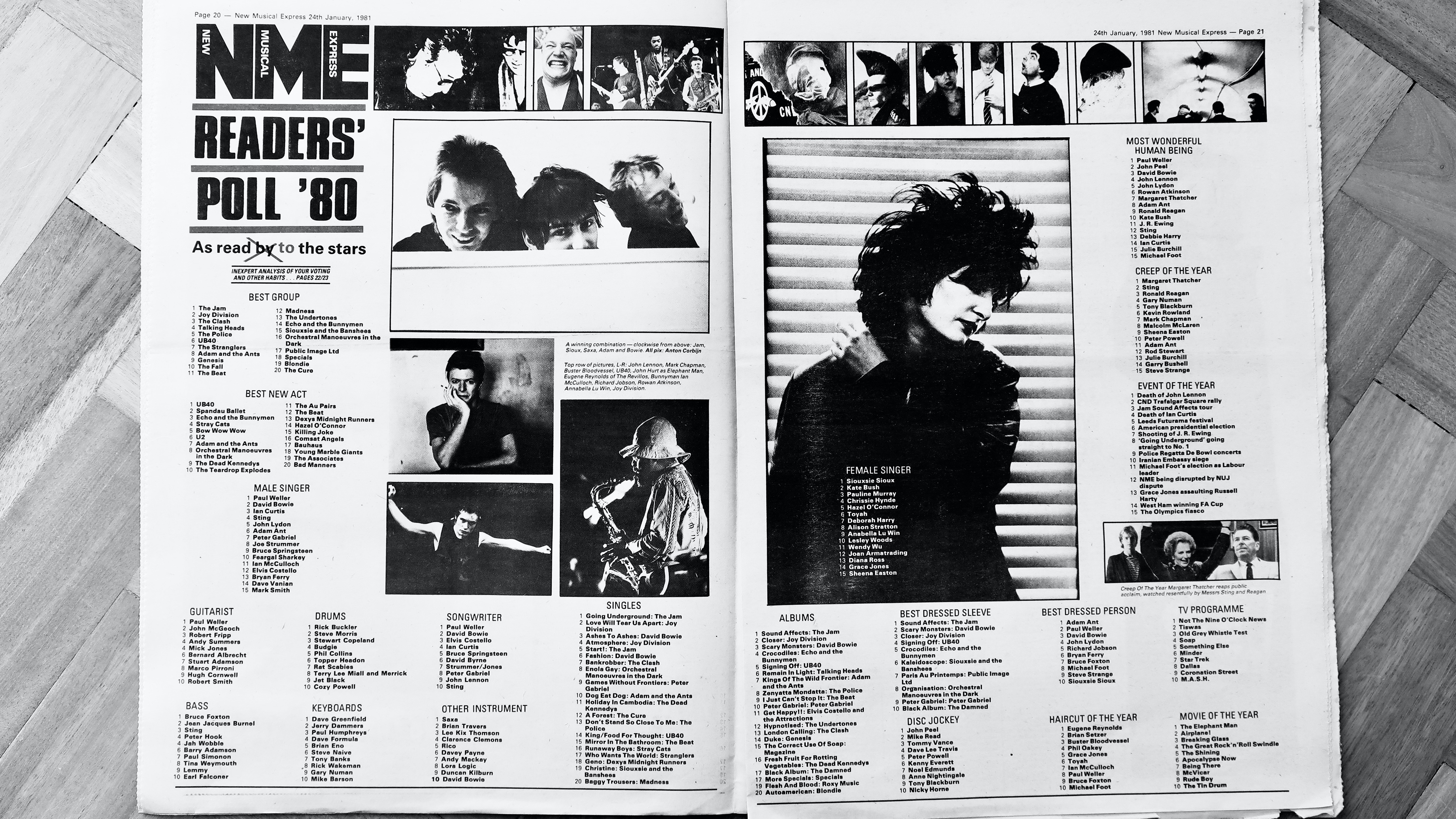 It's a late 1980 lunch hour at an insignificant girl's high school in Nottinghamshire. Vim's friend Clare is eating corned beef sandwiches with beetroot and holding the NME wisely. Vim – as the lesser part in this, doesn't appear to have any lunch, and she's also trying to think of cool bands to impress her well-fed friend, who has all the knowledge:
"Ok, we're not voting for The Stranglers any more. Au Pairs or Young Marble Giants?"
We go for Young Marble Giants for best group and best new act. When it comes to best guitarist, bass player, drummer etc we draw a blank as knowing the different instrument players is not one of our special interests.
"I don't know the names of any guitarists .. apart from Mick Ronson … he played guitar with David Bowie, I think"
"Well, put him down .. it doesn't matter, does it?"
In another school, over 100 miles away, the young Lene Cortina is also filling in the voting form but taking a different approach. Allegiance to one or two favourites means that The Cure are best group, 'A Forest' is obviously the best single and '17 Seconds' definitely the best album. They also get the vote for best artwork and best live act even though Lene hadn't actually seen them. The instrumental categories are biroed in with guitarist Robert Smith, bassist Simon Gallup and so on, to back up the other answers and show ultimate loyalty to the band in question.
Doing the NME poll had so many categories that it often took several lunch hours to complete. Arguments over who was 'best human being' and 'best film' needed time to consider what we really thought alongside which answers would make us seem more mature and in-the-know.
When it came to voting for the 'best female singer', we had clear opinions and tastes. There were the original punk girl singers, like Siouxsie and Debbie Harry and the post-punk women like Lesley Woods and Alison Statton. We didn't really consider voting for anyone from a previous era or from different music genres.
But when you look at the results for best male and female singers in the 1980 NME poll, there's a striking difference in the range of artists. The voters – we assume a large majority male – can find plenty of punk boy singers, along with a few older rockers – Bowie, Springsteen, Ferry and Peter Gabriel – who are chosen. All 15 of the 'best' male singers, from Paul Weller to Mark E Smith are white guys. Not many people seem to have thought in 1980 that, maybe Smokey Robinson, Prince, James Brown were 'the best' singers … Naturally Lene and friends voted for Robert Smith.
Looking at the picture of the 1980 NME poll above, posted by @Birmingham81 on Twitter, it's obvious that those voted as best female singers represented a wider group musically. Joan Armatrading, Diana Ross, Kate Bush, Grace Jones and Sheena Easton are there along with Pauline Murray, Siouxsie, Chrissie Hynde and Anabella Lu Win. Here's four of our theories:
Women were seen as not having to be cool or part of the new music trends that affect voting in all the other categories. so, if you previously liked Joan Armatrading, it was fine to still cite her, where you wouldn't do the same with Billy Joel, would you?
When choosing the best female singer, voters were taking a holistic view on their voice, presence, appearance and likability. From comments and current day postings on social media, it's still apparent that the 'sexiness' or 'cuteness' of women punk and post-punks is of major interest, sometimes above their musical output.
The NME acted as a gatekeeper and influencer, so bands that it didn't cover, or that were dismissed as uncool wouldn't be voted for. Dolly Mixture, Mo-dettes, B52s, Exene Cervenka with her band X and Joan Jett all had 1980 releases but are not mentioned in the poll. The Slits, The Raincoats and Patti Smith had record releases the previous year and these women were still singing, but were obviously not as popular as Sheena Easton.
Similar to Vim's hopelessness with not knowing the names of any guitarists, many NME readers may not have known or been interested in a range of female-fronted bands. It's possible that Siouxsie Sioux got 90% of the votes as an obvious favourite and the others only got a few votes. Did people vote for Sheena Easton or did the journalists fill a gap?
Having a quick peek at NME awards 2020, it's obviously a very different affair these days. No longer a public vote and very much an expensive PR awards evening, the NME awards have done away with best male and female singer catagories. They still have a best Festival Headliner though, and in 2020 as the perfect illustration as to how much times have changed, the prize went to The Cure. However in the 32 categories, women songwriters, artists and other professionals are well-represented, from Billie Eilish, to Clairo, Lizzo, Emily Eavis, Taylor Swift, and still there the fantastic Debbie Harry in the best book catagory. Wonder who from the class of 2020 will still be in the running in 40 years time?