You can play a rhythm on anything. If you start proper drum training, it's years tapping on an unglamorous pad or single snare without a sniff of a 20-piece kit with cowbells, splash cymbals and toms tuned to every note you need.
Of course, rhythmic music comes from the heart of ancient societies – there are talking drums, dance accompaniments, expressions of mood and storytelling using traditional drums made from wood, skins, gourds – whatever was available.
If a 102-year-old African could be a punkgirl, then singer and drummer Fatma binti Baraka, known as Bi Kidude was just that. Until she died in 2013, she used her music to promote and politicise the culture of Zanzibar and Tanzania, living a highly unconventional life. She's reputed to have rejected the veil and ran away from a Koranic school at the age of 10 to follow a life of music, smoking and drinking, recording her first solo album in her mid-eighties. More information here.
There are whole genres of music that involve stand-up drumming – marching and military bands, congas, orchestral percussion, Japanese Taiko, Bengali Dhaki and most of these now have all-women troupes.
A change in the law by President Nkurunziza of Burundi has now banned women drummers: "It is strictly forbidden to those of the female sex to beat drums. They can however carry out female folk dances accompanying the drums," his 2017 decree states.
The urge to drum seems innate in many people. Would-be drummers often go for tapping the fingers on the school desk, or improvising with a couple of biscuit tins. Iconic drummer with Velvet Underground Moe Tucker cites drumming as an easy way of participating as she started listening to music. Drummer with 70's Memphis punk girl band The Klitz, Marcia Clifton says that drumming followed on naturally from her years of tap dancing.
In Western rock-based music, there aren't many drummers who play standing up – Slim Jim Phantom from Stray Cats, Bobby Gillespie in JAMC, Victor De Lorenzo of Violent Femmes are three stand-up men that come to mind out of all the male drummers in the world. But despite less than 10% of drummers being female, there are at least as many women who play drums standing up.
Is it that these women stand-up drummers are copying Moe Tucker's style, or could there be a physical reason for stand-up drummers in Yeah Yeah Noh, The Shop Assistants, Glasvegas and many more?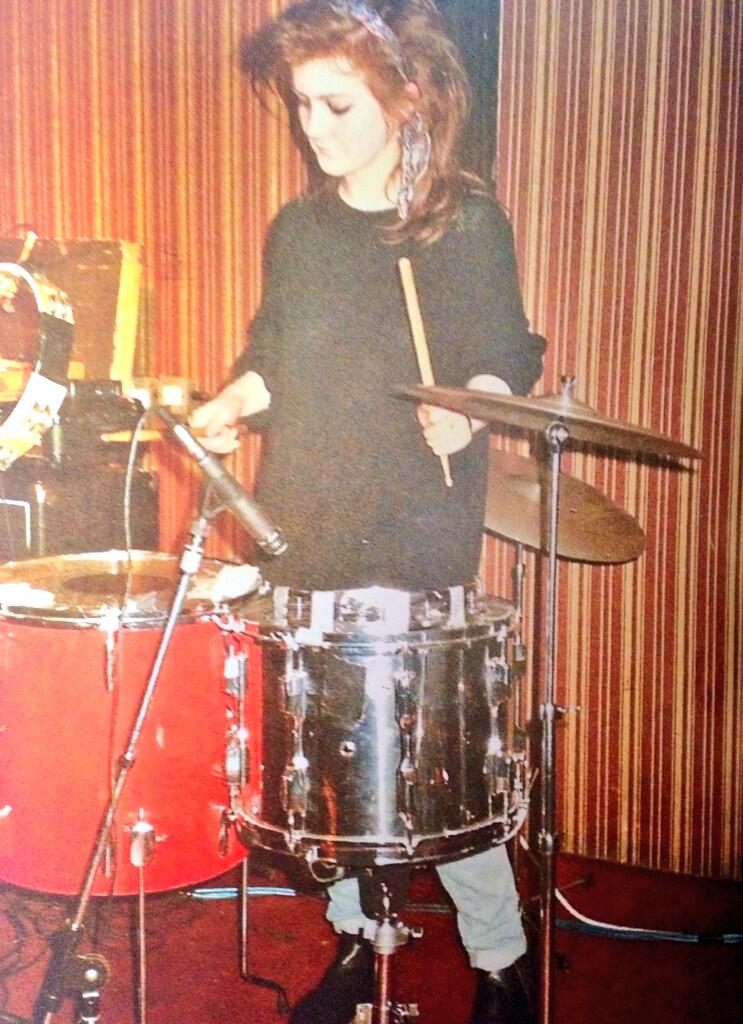 Moe Tucker's preferred style was to use a percussion beater or mallet in her right hand and a normal wooden drum stick in her left hand. By not using the feet to stomp on a bass pedal or a pair of hi-hats, the stand-up drummer keeps the beat much simpler. In this position, more power can go into each beat, because the whole body and weight is able to swing into it. It is a different kind of drumming, but it's effective, moody and great to watch. For smaller-framed, less-muscled people, playing stand-up drums is a great choice; more women should try it.
Moe Tucker was also very anti-cymbals, believing that they were not necessary. Peter Gabriel and Kate Bush took the same stance for several of their respective albums when they banned cymbals altogether. It is a matter of taste – whether you like a straightforward beat, or a panoply of rhythmic tones and textures. There's no film of Sue Dorey playing live with Yeah Yeah Noh, but you can hear the thwack-atty-thwack approach on this recording.
We'll finish this post with a couple of big concert extracts. The first is a gigantic build up to the very-cool Sheila E leading and performing an energetic vocal and percussion section for a Prince concert, whilst wearing an off-the-shoulder evening dress.
The second extract is of Glasvegas playing with stand-up drummer Caroline McKay in Australia. When McKay decided to leave the band, they advertised for another stand-up drummer and got in Jonna Lofgren – another women. We salute you stand-up girl drummers!