The Belle Stars came in at the end of punk; a reformulation of an all-girl band after The Bodysnatchers broke up in 1981. Part of the British 2-tone ska movement, the Bodysnatchers had played some quality punk gigs, including supporting Shane McGowan's band The Nips and playing at Debbie Harry's birthday party. Despite two Peel sessions and a growing fan base, the Bodysnatchers disbanded before releasing any vinyl.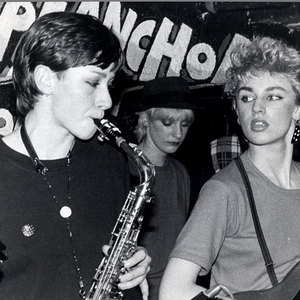 What happened next is, therefore understandable. Not very punk rock, but understandable. A gang of young women had been drawn into music-making by the spirit of punk – that idea of getting up and doing your own thing. "It was easy, it was cheap, go and do it!" as the Desperate Bicycles proclaimed. But when the gigs, the fans and the sessions stop, it's a big comedown. And it's easy to crave success at any price. The Belle Stars might have been a bigger success if they'd had more power and …well, general arseyness.
Any other punks would have thought 'fuck it!' and gone to do something different that they really wanted to do. But when you like the limelight and think it's cool being in a band without a specific reason, it's easy to get sucked into listening to the men in the rolled-up-sleeve 1980s suits.
This blog isn't just about women in bands; it's about the punk attitude and ethos which overturned a lot of assumptions and opened the gates in the late 1970s and early '80s for girls like me to form bands. The girls who formed the Belle Stars – Stella Barker, Sarah-Jane Owen, Miranda Joyce, Penny Leyton, Judy Parsons, Lesley Shone and Jennie Matthias must have come from that standpoint, yet their history as it is told on the Internet seems to consist of things falling flat at every turn.
Their songs failed to chart, the attempts at corny cover versions like Iko Iko and The Clapping Song came in for criticism (unless you were an 8-year old girl, I guess). They were on Stiff Records as it was failing, and taken over by Island and then ZTT. In 1989, however, the film Rain Man revived Iko Iko and it then got to number 14 as part of the film's soundtrack. There's positives, but like then, nobody seems to be fighting their corner and telling their story.
We'd love to hear from some of the Belle Stars. Was life great in post-punk 1980? Did the band get manipulated by those guys in the rolled-up balloon-suits? Where are you now, Belle Stars?
Here's a 1983 Belle Stars interview by Stephen Joyce from eccentric sleeve notes