If you read or watch interviews with members of The Slits, it's obvious that they used to get a bit of hassle from men. This includes being told that they couldn't play properly, being taken for prostitutes when walking down the street and having to argue vociferously with the business guys to keep control of their own image and music. But how much sexism did they encounter in the late 1970's and would a similar band have it any differently today?
Manager and DJ Don Letts describes a particular issue:
"On the White Riot tour, we had to bribe the coach driver, Norman, to allow them on the bus….. He just couldn't compute…. women weren't supposed to be like this!"
The summer of 1976 was hot and it felt like something was going to erupt. Viv Albertine describes how she spent the whole summer trying to learn guitar with Sid Vicious, only to be told she was not good enough. Just as well, really because when Viv joined The Slits, things got a whole lot better.
Live, the band had to front it out. Albertine admits to being terrified with nerves before going onstage, but implies that the bond between the girls gave them the courage and confidence that shines out to the (mostly male) audience.
The Slits practised standing in an assertive way so that they weren't copying boys' bands or lacking in confidence. Viv Albertine makes an interesting comment about how German-born Ari Up had none of the English embarrassment about her body (in a 2009  interview with Will Parkhouse):
"She was very relaxed about her body. She pissed on stage … not to be shocking – she deperately needed a piss."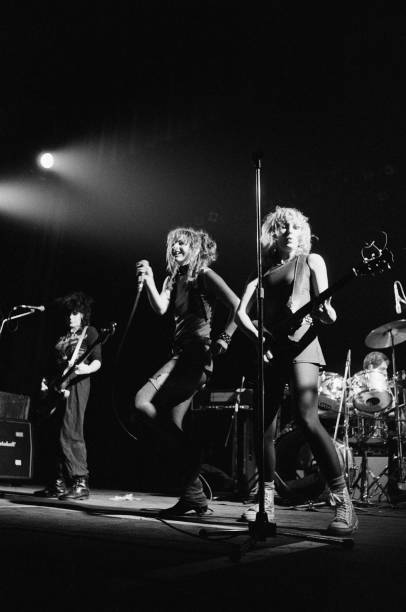 The freedom with which Ari dances in videos and the naked frontery of the cover of 'Cut' serve to confirm that physicality. In fact, following the break-up of The Slits, Ari found another opportunity for freedom:
"The '80s sucked, because it became yuppiefied….I basically just retreated into the jungle, lived naked in Belize and Borneo. I just couldn't handle it. Tessa went to Africa and lived in the desert."
Our blogpost Nora Forster explains how John Lydon married Ari Up's mother, Nora and the couple have brought up Ari's sons, particularly since 2010 when Ari died of breast cancer. She had refused chemotherapy, apparently because she wanted to keep her rasta dreadlocks.
Perhaps the most interesting thing that runs through the accounts of this period is that most of the negative reactions towards The Slits were accusations about the girls' impropriety, attempts to manipulate their music or public expressions of shock. There seems to be very little out-and-out direct sexism as we would know it today, particularly from those on the punk scene. It was as if outrage was directed at the band as punks, and this dampened anything else about them as women. The Slits also seemed to believe that feminist concerns of the day missed the point – take the outcry over the 'Cut' topless cover:
"I think it was really, really the right thing. It expresses the way we still are, the way we feel, the way we sound and the way we visualise life…. I like in the way that it offended the feminist rights women, for instance. We were just doing a thing spontaneously, naturally." Ari Up
In the same interview, Ari also explains that the punk scene was protective of girls, with mixed friendship groups being common within punk. Diversity in character, presentation and behaviour was encouraged and gender roles were broad. Ari says that a lot of people at that time were pretty asexual:
"There wasn't all that cock-rock agenda in the punk scene, which was great for The Slits, because it gave us so much support from the boys in that time. They weren't sexually motivated…. I never encountered any sexual harassment. I was only 14 and everyone was older than me, but never did a boy come up to me and say: "Oh, have you got a boyfriend, can I fuck you?" There was never any of that, there was always respect. We were protected by the boys as if we were sisters. We were never sexually humiliated. That shows the innocence, right there."
As someone who was even younger than Ari Up, living in smalltown England at the time, I can totally agree with her. As punkgirls, we showed spirit and no-nonsense attitude which semed to make boys realise we were one of the gang and not objects of desire. But you may know different, of course…..