Tina Weymouth, Debbie Harry, but most of all, Sylvia Robinson are three women who played a part in ensuring rap music's early success.
Back in 1979, it would be hard to predict the worldwide impact of rap music. And remember – 'worldwide' means selling to people of all ethnicities. Back then, people in Scandinavia or Romania had little understanding of New York street culture; black music meant throaty soul ballads, dance-along disco or maybe a bit of gospel. The decade-old 'toasting' craze for chanting over rhythms stayed firmly in Jamaica, and the Bronx party atmospheres with guys doing raps could so easily have just stayed in NYC.
The idea of an 'influential' is now well-established; someone who persuades the masses to try something new. Whether it's a radio DJ, celebrity or charismatic person locally, most of us look to others for direction. But when white people have adopted black music styles to advance their own careers, the pay-offs have not always been equitable.
"Mick Jagger and Robert Plant and Steve Winwood and Janis Joplin and the Beatles jumped, jived and wailed the black blues. Tina Turner wrested it all back."
This quote comes from an incisive piece by Wesley Morris in the New York Times; it is at times painful reading, but at the end he concludes that the tide is now turning.
Sylvia Robinson
Back to the rap story…. At the start of rap and hip hop, there was very much a female hand on the tiller. Round about the same time as The Slits started recording in the UK, Sylvia Robinson started Sugarhill Records in New York with her husband Joe. In 1979, they put out Rappers Delight by the Sugar Hill Gang.
The style of music mimicked what DJs were doing at block parties in the Bronx, where they'd use two record decks and play two copies of a record to extend the percussion breaks in songs and talk to the audience over the beats. This rapping became increasingly a matter of rhythm and rhyme, and Sylvia Robinson is named as co-producer on that first Sugar Hill hit.
After one of the Sugar Hill Gang shows, Sylvia and Joe were 'bum-rushed' by a new all-girl rap trio 'The Sequence' who forced their way backstage to perform. The girls' confidence paid off and the group was signed – Cheryl Cook, Gwendolyn Chisholm and Angie Brown Stone released 'Funk You Up' in 1979 – one of several songs which the writers claim Mark Ronson and Bruno Mars plagiarised for their 2014 diamond-selling hit 'Uptown Funk'. A lawsuit is still ongoing.
The early rap records had that happy vibe, but Sylvia Robinson in particular is credited with making the lyrics of rap records more real and describing the everyday issues that people faced. She had to push her views for some time before her label mates agreed that rap should not just be about boasting and partying. In 1982, The Message by Grandmaster Flash and the Furious Five was co-produced by Sylvia Robinson; it went on to win awards and reappear in countless sampled tracks for decades afterwards.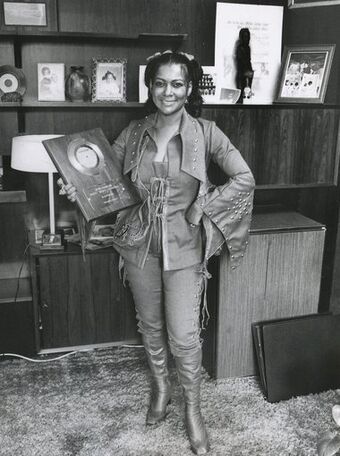 Sylvia sadly died in 2011. Two of her sons also passed away in recent years. The legacy of Joe and Sylvia continued in 2017 as grandchildren and remaining son Leland showed up in reality TV series 'First Family of Hip Hop'. Leland quotes his mother's words:
"Don't copy things that are out there… come up with something new, something different."
Sylvia Robinson's idea of 'coming up with something new' is where punk crashes into the rap story. You could argue that white singers' early attempts at rap were the usual cultural appropriation, but in the case of Debbie Harry and Tina Weymouth, the motive seems to be one of enthusiastically embracing something new and acting purely as influencers having -a-go.
Debbie Harry
In 1980, Blondie recorded 'Rapture' – a song which featured Debbie Harry rapping a segment of the track. Released only a year after 'Rapper's Delight', it was the first rap video to be shown on the emerging MTV channel. Rap star Fab 5 Freddy who is name-checked by Harry in the song had a small part in the film. Grandmaster Flash was supposed to play the part of the DJ in the video but either 'didn't show up' or 'wasn't asked' according to whose version you believe. The song reached number 1 in Billboard charts. Harry herself, admits that the quality of the rap isn't great. Interviewed by Frank Moraes for Rolling Stone magazine in 2013, she says:
"Creatively it did one thing in particular: It was the first rap song to have its own original music. Commercially it made rap viable for the mainstream charts. I don't think it was a tremendous influence. I am nowhere close to being a rapper. I'm completely in awe of great rappers."
The UK version remixed by Mike Chapman, including extended 12″ mixes is generally thought to be much better than the original US release. Parts of the song are regularly sampled by other artists. There's a lot of Rapture in 'Grandmaster Flash on the Wheels of Steel' …… but of course he edited out all of Debbie Harry's rap part!
Tina Weymouth
When Tina Weymouth and Chris Frantz started Tom Tom Club in 1981 as a side project from Talking Heads, they recorded at Island Records' studio in Nassau, with top Jamaican reggae rhythm section Sly and Robbie. In this arena, Jamaican-style toasting and NYC rapping contribute a playful fun vibe that includes singing, rapping, different voices, languages and mouth sounds. Weymouth namechecks a chain of black artists in 'Genius of Love' – Smokey Robinson, Bob Marley, Kurtis Blow, Hamilton Bohannon and James Brown. Tom Tom Club's first hit 'Wordy Rappinghood' is a spoken/chanted production, but it doesn't try to emulate the Bronx rappers. In that sense it's more successful than Debbie Harry's attempt because it follows the Mother of Hip Hop's advice to come up with something different. The cartoon-style videos also worked brilliantly on MTV.
These releases by Tom Tom Club, just like Blondie's 'Rapture' brought the idea of rap to mainstream rock audiences. Both Debbie and Tina name their sources and through their music urge fans to investigate those rappers and singers who were 'the real thing'. These pop-rap releases prepare the auditory palate of MTV viewers for successive generations of global rap and Hip Hop music challenging the status of rock music.
And in the 40 years since 'Rapper's Delight', what's happened? Did you notice that at the start of this, we referred to the guys doing raps in the Bronx. That was because, at the start, it was mainly men. At least since then we've had plenty of female rappers on both sides of the Atlantic, including Missy Elliot, Lauryn Hill, Speech Debelle, Queen Latifa, Monie Love, Salt 'n' Pepa, Lady Leshurr and MC Lyte – who represents women in the stone age and ancient Egypt at the start of this video.
Sounds like progress for women in music? You'd think so ….
….. Popular YouTube channel 'Hip Hop Universe' has a playlist called 'Best Rap Songs of Each Year' (1984-2018). That's twenty four years – from LL Cool J in 1984, through NWA, Public Enemy, Dr Dre, Kanye West and so on.
Of course we at punkgirldiaries.com looked for the female rappers and there were none. Not one in 24 years. Hip Hop Universe has judged that the stand out rappers for every one of those years is male. There is one female name there – in 2009 Alicia Keys co-wrote Empire State of Mind with Jay-Z. He was the rapper and she the classically trained piano-playing songwriter.
The only conclusion we can reach is that in 1979-'82 there were far fewer women involved in the rap scene or making music influenced by rap. But in different ways the three women we're saluting today – Sylvia Robinson, Debbie Harry and Tina Weymouth had a great deal of influence.
And remember:
"Don't copy things that are out there… come up with something new, something different."